Dear Friends, Colleagues, Collectors,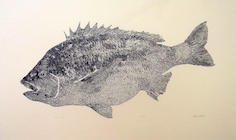 It is common knowledge that fishermen tend to be very proud of their catches. This was already the case before the invention of photography, and so, ever since ca 1800, japanese fishermen have been producing fish-rubbings - GYOTAKU ( gyo – fish, taku – rubbing) in order to document the size, shape and type of their best catches. To make a fish-rubbing the fish is first stained with ink. It is then covered with a soft japanese paper or fine cloth, and its´ form is rubbed down by hand. These shrouds , either paper or cloth, would be framed and hung in an interior to be presented to visitors or colleagues.
As these fish-rubbings tend to be blurred and inaccurate, I decided to resolve this by making a woodcut : I searched for two gyotaku of the same size, both showing Kurodai ( seabream) and merged them in a drawing.
Now, after working on the wood printing block for a year, I am pleased to present the finished result :
BIG FISH Kurodai
This sheet is the 10th piece of the series SKIN & HAIR
| | |
| --- | --- |
| Date : | 2015 |
| Edition : | 48 Handabzüge (numbered and signed) |
| Format : | 44 x 75cm |
| Woodblock : | Yamasakura (Japanese Mountaincherry) |
| Paper : | Washi Atsukuchi 57 gr / qm |
| Price : | US Dollar 1800.- ( incl. packing and postage) |
Orders can be made to : manabeanton@aioros.ocn.ne.jp